Articles in press have been peer-reviewed and accepted, which are not yet assigned to volumes /issues, but are citable by Digital Object Identifier (DOI).
Hydrogen sulfide (H2S) is an important messenger for its strong anti-inflammatory effects, which may be involved in multiple cardiovascular diseases. In our previous study, we revealed that H2S attenuates diabetes-accelerated atherosclerosis through suppressing oxidative stress. Here we report that GYY4137, a H2S donor, reduced the plaque formation of aortic roots and the levels of both intercellular cell adhesion molecule 1 (ICAM1) and vascular cell adhesion molecule 1 (VCAM1) in diabetes-accelerated atherosclerotic cells and mouse models. The inflammatory factors of TNF-α, IL-1β, IL-6, and MCP1 were also significantly reduced by GYY4137. Mechanically, GYY4137 suppressed the activation of pyrin domain containing protein 3 (NLRP3) inflammasome in diabetes-accelerated atherosclerosis conditions. Upon knockdown of NLRP3, the increase of ICAM1 and VCAM1 caused by high glucose and oxLDL could be reversed, indicating that H2S protected the endothelium by inhibiting the activity of NLRP3 inflammasome. In conclusion, our study indicates that GYY4137 effectively protects against the development of diabetes-accelerated atherosclerosis by inhibiting inflammasome activation.
Complete congenital achromatopsia is a devastating hereditary visual disorder. Mutations in the CNGB3 gene account for more than 50% of all known cases of achromatopsia. This work investigated the efficiency of subretinal (SR) delivered AAV8 (Y447, 733F) vector containing a human PR2.1 promoter and a human CNGB3 cDNA in Cngb3−/−/Nrl−/− mice. The Cngb3−/−/Nrl−/− mouse was a cone-dominant model with Cngb3 channel deficiency, which partially mimicked the all-cone foveal structure of human achromatopsia with CNGB3 mutations. Following SR delivery of the vector, AAV-mediated CNGB3 expression restored cone function which was assessed by restoration of the cone mediated electroretinogram (ERG) and immunohistochemistry. This therapeutic rescue resulted in long-term improvement of retinal function with restoration of cone ERG amplitude. This study demonstrated an AAV-mediated gene therapy in a cone-dominant mouse model using a human gene construct and provided a potential to be utilized in clinical trials.
This study aimed to investigate the bile salt-stimulated lipase (BSSL) concentration in the milk of Chinese women and its correlation with maternal body mass index (BMI), gestational diabetes mellitus (GDM) and gestational hypertensive disorder (GHD). The BSSL levels in the milk samples were measured by enzyme-linked immunosorbent assay (ELISA). BSSL level in colostrum milk of mothers with full-term infants was positively correlated with pregnancy week and negatively correlated with maternal pre-pregnancy BMI and BMI late in pregnancy. Moreover, the BSSL concentration in mature milk was positively correlated with BMI gain during pregnancy. The BSSL concentration in colostrum milk was lower in GDM mothers than in normal mothers. The BSSL helps infants digest fat in early life and its level was associated with lactation. The changes in BSSL characteristics with maternal BMI and GDM in this study may have clinical implications regarding the effects of pregnancy weight and metabolism on the nutrition and health of the offspring.
The Journal of Biomedical Research--2020, 34(1)
Journal of Biomedical Research is a peer reviewed open access journal dedicated to publishing high-quality research in all areas of the biological and medical sciences.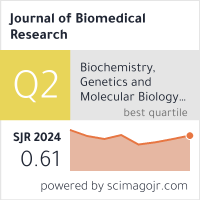 Journal Services
External Links